The Flathead Valley is a summer paradise with convenient access to Glacier National Park, tons of water including Flathead Lake (the largest natural freshwater lake west of the Great Lakes), and many charming towns such as Bigfork, Whitefish, Lakeside and Columbia Falls. A visit to the Flathead Valley will allow you to enjoy world-class hiking, rafting, fishing, golfing, dining, shopping and more!
Local Tips:
Glacier National Park – make sure you have a ticket for entry if you plan to drive the Going to the Sun road this summer!
Bigfork – take in a show at the reknown Bigfork Summer Playhouse.
Flathead Lake – rent a boat or take a SUP around Bigfork Bay.
Lakeside – sample a flight of beer and enjoy delicious food at Tamarack Brewery.
Whitefish – check out the extensive, easy to access Whitefish Trail system.
Columbia Falls – don't miss the farmers market on Thursdays, complete with live music, beer garden, food trucks and of course produce!
We now have over 40 properties throughout the picturesque Flathead Valley, including watefront, secluded or walk to town homes – there's something for everyone!
Helpful Links About the Area:
Check out some of our newest vacation rentals around The Flathead Valley!
Lake Forest Retreat – Lakeside:
Salish Ridge Retreat – Whitefish:

Cedar Pointe Lookout – Collumbia Falls: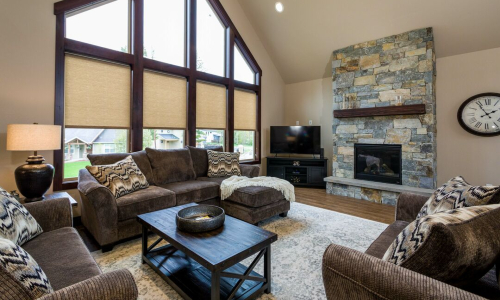 While Yellowstone National Park is not requiring tickets to enter the park, the campgrounds, lodging and tours get booked quickly so make sure to plan in advance! Glacier National Park is implementing a new reservation system for the summer of 2021 in an effort to control crowds and promote safety in the park. To help inform our Stay Montana guests and make sure they have a smooth, fantastic vacation, we've put together information below on visiting YNP and GNP. If you have any questions, feel free to reach out to our team!
Also, be aware that our vacation rentals across Montana are booking quickly for summer of 2021 so please make your reservations today!
Glacier National Park
An Entry Reservation Ticket will be required from May 28 to September 6, 2021 for private vehicles & motorcycles traveling on the Going-to-the-Sun Road between 6am and 5pm MDT from the West Glacier, St Mary or Camas Road entrances. Tickets are $2.00 and are in addition to your Park Pass and are good for 7 consecutive days. Foot & bicycle traffic does not require an Entry Reservation Ticket. Tickets are included if you have lodging or service reservations. Entry Reservation Tickets will be limited with about 3/4 of them available up to 60 days in advance and 1/4 of them available 2 days in advance. Tickets can be purchased beginning on April 29, 2021 on the recreation.gov website. Many Glacier, Two Medicine, Polebridge and Highway 2 entrances do not require an Entry Reservation Ticket.
Glacier National Park is also requiring face masks and social distancing as part of their COVID-19 precautions. Check the latest status updates for Glacier here.
Lodging near Glacier National Park>>
Yellowstone National Park
Currently, reservations are not required to enter the park or planned for the summer of 2021; however, Yellowstone is exercising COVID-19 precautions such as mask wearing and social distancing that you can read about here. Campground & lodging reservations can fill up months in advance so make sure to make your reservation early! You can make your reservation for Yellowstone camping, lodging, tours, etc. online here.
For Immediate Release: April 1, 2021 
Stay Montana Expands
 its Big Sky, Montana Vacation Rental Portfolio
Stay Montana is delighted to acquire Beehive Property Management and will keep the majority of the onsite operations and team intact. Beehive Property Management has been focused on Big Sky, Montana lodging with a well-established brand, returning guests, a variety of unique properties and loyal homeowners.  
"To ensure our owners and guests will be continuously cared for as if Beehive were still the property manager, we have chosen to sell to another local family-owned Montana company, Stay Montana. We wanted to make sure we selected a company who truly understood the unique identity of our special Big Sky properties – we knew we had found that when we met with Jennifer and Chris Torsleff, the owners of Stay Montana. Additionally, we are excited by the additional resources the Stay Montana team has to offer and confident our loyal guests & owners will be more than satisfied." Anne Gagne, former Beehive Property Management President and Owner. 
Stay Montana is excited to help take all our properties to the next level with the expanded personnel, marketing resources, exceptional customer service and amenities that Stay Montana brings to the table. The Beehive property inventory compliments Stay Montana's inventory nicely and will make Stay Montana the leading vacation rental company in Montana. 
"Over the last couple of years, we have seen several Big Sky vacation rental companies being purchased by large out of state companies with no ties to Montana, so we were excited when we had the opportunity to keep the company and jobs in Montana," said Chris Torsleff. 
Chris, Jennifer and their two children Ella and Connor moved to Big Sky in March of 2016 from Breckenridge, CO.  Both Chris and Jennifer have worked in the hospitality industry for 30 plus years for companies like Vail Resorts, Ritz Carlton, Marriott, and Hilton. Married at the Moonlight Lodge in 2002, Jen and Chris always had a dream to own a business in Big Sky and contribute to the community. Stay Montana is headquartered in Big Sky with additional offices in Bozeman and Flathead Valley. Click here to read our official announcement and view the Beehive collection of Big Sky vacation rentals.
"Stay Montana's business model is unique due to our commitment to invest in local physical offices, reservations staff and boots-on-the-ground operations in our destinations," Jennifer Torsleff said. "We pride ourselves on providing high level service and building trusting relationships with homeowners and vacation rental guests. We take care of owners' homes as if they were our own." 
Stay Montana's properties are available at staymontana.com. Headquarters can be reached at 888.871.7856.
Trips to Discover ranked our Stormhold vacation rental, located in Downtown West Yellowstone, as one of the 14 Best Cabin Rentals in Montana! Just minutes from Yellowstone National Park, a perfect home base for a large family, surrounded by the national forest and offering a fireplace and deck, 5 bedrooms and 4 baths, there are many reasons Stormhold was named as one of the best cabin rentals in Montana. Read more on the Trips to Discover website.
View more photos and check availability for Stormhold!
Browse vacation rentals by amenity>>
Questions? Contact Us!
Delta, Southwest and Alaska Airlines offering NEW flights to Montana
Bozeman Yellowstone International Airport
Now it's even easier to get to Montana!! Delta will add new routes from New York(JFK), Los Angeles(LAX) and Detriot. Southwest Airlines will start offering fares as low as $39 on direct flights to Bozeman Yellowstone International Airport from Las Vegas, NV and Denver, CO on May 27! Plus, new non-stop flights from Alaska Airlines will start on May 20th to Bozeman Yellowstone from San Diego and San Francisco, CA.
We've compiled a list of all the direct flights to Bozeman just in time for summer! Need lodging? Check out our vacation rentals to find your perfect home away from home!
Atlanta, GA
Austin, TX
Boston, MA
Charlotte, NC
Chicago, IL
Dallas, TX
Denver, CO
Detriot, MI
Houston, TX
Las Vegas, NV
Los Angeles, CA
Minneapolis, MN
Nashville, TN
New York, NY
Newark, NJ
Oakland, CA
Philadelphia, PA
Phoenix, AZ
Portland, OR
Salt Lake City, UT
San Diego, CA
San Francisco, CA
Seattle, WA
Visit the Bozeman Yellowstone International Airport's website for more info on flights and airlines that provide service.
Glacier Park International Airport
The following are a list of direct flights to/from Glacier. For more info on airlines and routes, please check out the airport's website. Looking for lodging? We have lots of vacation rental options in the Flathead Valley!
Atlanta (Seasonal)
Charlotte (Seasonal)
Chicago (Seasonal)
Dallas (Seasonal
Denver
Las Vegas
Los Angeles (Seasonal)
Minneapolis / St. Paul
New York – LGA (Seasonal)
New York – JFK (Seasonal)
Oakland (Seasonal)
Phoenix
Portland (Seasonal)
Salt Lake City
San Diego (Seasonal)
San Francisco (Seasonal)
Seattle
Ready to visit? Summer is booking quickly so start browsing our vacation rentals now for the best rates and availability. We can't wait to welcome you to Montana!
Brand New Big Sky Ski In/Out Luxury with Room for the Whole Gang
You won't want to miss our newest property… Cascade Ridge Luxury Retreat!
Drool-worthy brand new construction! This luxurious ski-in/out Big Sky property offers amazing views, 6 bedrooms, 6.5 baths, up to 16 guests, two decks, and even a speakeasy style bar, and movie room! Guests have access to the Cascade Clubhouse during their visit for a small fee. The Little Thunder Chairlift offers convenient ski-in/out access from the Cascade area to the main part of the mountain.
Learn more about Big Sky's Cascade Ridge Luxury Retreat and check availability!
Travel & Leisure named Flathead Lake one of the Top 25 Best Lake Vacation spots in the US!
According to Travel & Leisure's article, Flathead Lake is, "Best for Horseback Riding: Wild horses roam the eponymous state park that floats in this lake in western Montana. Along the shore awaits the all-inclusive Flathead Lake Lodge, where guests can enjoy equestrian lessons, trail rides, cookout rides, barrel-racing competitions, and team roping demonstrations. Other dude ranches in the Flathead Valley can organize multi-day packhorse camping trips into the surrounding wilderness mountains." Read the full Travel & Leisure article about Top 25 Lake Vacations in the US.
Stay Montana recently expanded our vacation rental offerings to the Flathead Valley and we now offer many vacation rentals on or near Flathead Lake! Check them out and find your perfect Lake Vacation spot!
Quick facts about Flathead Lake:
Located in Northwest Montana.
Largest natural freshwater lake by surface area west of the Mississippi.
79th largest natural freshwater lake in the world.
One of the cleanest lakes in the world.
The East Shore is lined with cherry orchards.
The West shore is known for wine production.
It's not that deep – the deepest part is 370 ft vs. Lake Tahoe which is 1600 ft deep.
185 miles of shoreline.
Flathead Lake Activities:
Horseback Riding – as the T&L article mentions.
Fishing – lake trout, cutthroat trout, bull trout, lake whitefish and yellow perch.

You can also ice fish in winter!

Wildhorse Island – a 2,165 acre state park, which peaks 1,200 above the lake. Known for herds of wild horses and bighorn sheep.
Swimming – plenty of public access beaches to explore and take a dip.
Boating – from ski boats, pontoon boats, fishing boats, sail boats, SUPs, kayaks, etc.
Cherry picking & farmer's markets
Camping
Hiking
Exploring the lakefront towns of Bigfork, Lakeside, Somers, Polson, Woods Bay
Want to plan your Flathead Lake vacation? We offer many vacation rentals on and near Flathead Lake!
Here are a few fun questions we asked to get to know David:
Where was the best vacation you ever took? Saint Thomas in the Virgin Islands last year. The water was so warm and clear. I snorkeled for hours everyday with sea turtles, schools of fish, and sting rays!
What do you think is the most important thing in a home for a guest? Cleanliness – A guest wants to come in and feel like they are the first ones to use the property
If you could cook dinner for a celebrity in one of our vacation homes, who would it be and where? Payton Manning and it would be at Sunset Haven overlooking Flathead Lake!
When you make a bed, hospital corners or no hospital corners? Hospital Corners out of habit
What's your preference, vacation rental, hotel, RV, or tent? Tent if I am in the woods, otherwise I would prefer a vacation rental.
If you were exploring Montana with Lewis and Clarke, what was your favorite place? Glacier National Park
What is your favorite season? Winter
Favorite sports team? Broncos
What was the most fun you had during the Covid-19 shut down? Mountain Biking!
Favorite book or movie character of all time? Harry Potter
Are you loyal to any brand? If yes why? Neversummer Snowboards because the quality of their product is always on point, they are reliable and stylish.
More about David and the rest of our team >>
Learn more about the Flathead Valley>>
3 cross country ski areas in the Bozeman area are in the running for the "best cross-country ski resort" category of USA Today's 10 Best Readers' Choice Travel Awards competition!
Crosscut Mountain Sports Center near Bozeman. Especially exciting since this is the first time Crosscut has been nominated and it's only 4 years old.
Lone Mountain Ranch near Big Sky. Named Cross Country Skier magazine's #1 Nordic ski destination in North America with 85 km of trails through wooded trails and mountainous terrain.
Rendezvous Ski Trails near West Yellowstone. Nominated for many years with pet friendly trails, trails in Yellowstone National Park, trails along the Madison River, wide skating trails and diagonal paths.
The Bozeman community is thrilled to be recognized as a cross country ski destination. The Bozeman area offers countless outdoor activities whether you're visiting in winter or summer. From boating, fishing, biking, hiking and more in summer to skiing, cross country skiing, snowmobiling, snowshoeing and more in winter. View the Bozeman Area Guide or the Big Sky Area Guide for more info about things to do.
Read more about Bozeman recognized as a Cross Country Ski Destination>>
Ready to visit? Find Your Perfect Bozeman Vacation Rental>>
Find Your Perfect Big Sky Vacation Rental>>
We strongly recommend purchasing lift tickets early!
Big Sky Resort lift tickets are on sale now and we highly recommend our guests buy them early! Purchasing lift tickets ahead of time ensures the best pricing and availability. You can even have them mailed directly to you, well in advance of your trip, which allows you to avoid lines when you arrive and are anxious to get on the slopes!
If you're staying at one of our Big Sky ski in/ski out properties, having your tickets in hand ahead of time allows you to use the access lifts in your area to get to the main resort area. This way, you don't have to take a shuttle and wait in line to pick up your tickets first.
Additionally, Big Sky Resort uses variable pricing so purchasing early gets you the best price!
To our Stay Montana guests – Buy Tickets Early & Have Them Mailed (well ahead of time!)
Purchase Big Sky Resort lift tickets>>
Need a place to stay? Check out our Big Sky Lodging options!
Happy skiing & boarding!