We're thrilled to announce that Whitefish made Condé Nast's list as 1 of the 26 Most Beautiful Places in America!
With Whitefish Mountain Resort ranked #3 Resort in the West by Ski Magazine, the proximity of Glacier National Park, the endless outdoor activities, and the breathtaking scenery, we're not surprised Whitefish made Condé Nast's 26 Most Beautiful Places in America list. Plus, it's getting easier to get to Montana with airlines adding direct flights to Montana!
"Whitefish may be most famous for its ski resort, but the Rocky Mountain town has a lot to offer in every season. (Case in point: It was one of Airbnb's top trending destinations for summer 2021.) Warm-weather activities include hiking, biking, and zip-lining, plus strolling along Central Avenue—the wood awnings and locally-owned shops will make you think you've stepped onto the set of a classic Western remake. Another perk: The town is located near Glacier National Park, making it an excellent access point for travelers wanting to experience some seriously beautiful lakes, glaciers, and mountains." – Condé Nast
View Condé Nast's full list of the 26 Most Beautiful Places in America.
We 
  Whitefish, that's why we've invested in growing our local team and property portfolio here! We now offer over 45 vacation rentals in Whitefish, Montana and pride ourselves on exceptional customer service. Want Concierge Services? We have them! Looking for the ultimate in Luxury? Check out our Sapphire Collection of elite properties.
Browse all Whitefish & Flathead Valley Vacation Rentals
Check out our Whitefish Area Guide!
Read about Big Sky & Whitefish Skiing
Why you need to escape to Montana this fall
Fall in Montana offers changing leaves, perfect temperatures and many outdoor activities. Getaway from it all and enjoy some family time or just simple R&R. Montana boasts something for everyone! Find Your Fall Retreat>>
Our favorite reasons to visit Montana in fall:
Leaf Peeping – did you know that Montana is home to Tamaracks, a conifer whose needles turn a gorgeous golden yellow color before falling off and returning green in the spring?
Hiking – temps are cool, colors are popping, serene hikes abound!
Yellowstone & Glacier National Parks – far fewer people visit the parks in the fall. Take a guided tour, boat ride, hike or scenic drive. Plus, tickets are no longer required at Glacier National Park after September 6, 2021!
Fishing – before brown trout start spawning in November, they are really active which means perfect fishing!
Sunrises & Sunsets – Big Sky Country offers stunning sunrises and sunsets over vast open spaces, gorgeous rivers or breathtaking peaks. You'll see clouds like you never have before.
Great Weather – September and October bring lots of sunshine and mild temperatures with averages in the upper 60s. Fall is the perfect time to get outside!
Need a home base for your fall activities? Whether you want a secluded property with plenty of privacy or a property where you can walk to restaurants, shopping and activities, we have a wide assortment to fit every need.
Did you know we offer discounts for weekly & monthly stays? Extended Stay Discounts>>
We asked Amber some fun questions to get to know her better:
What do you think is the most important thing in a home for a guest? For me, it's the beds! I love a soft bed with lots of pillows! A fully-stocked kitchen is my second most important, coffee for my husband and a teapot for me!
If you could cook dinner for a celebrity in one of our vacation homes, who would it be and where? I would cook for George Strait. Not only is he my absolute favorite country artist, he seems so genuine! I would make him dinner at Lake Forest Retreat in Flathead Valley!
When you make a bed, hospital corners or no hospital corners? When I make my own bed, no hospital corners.
What's your preference, vacation rental, hotel, RV, or tent? A nice vacation rental is my go to! Especially one with a private hot tub!
What is your favorite season? Winter is my favorite, nothing beats cuddling on the couch with my husband and our 3 beagles keeping warm on a snowy day!
Favorite sports team? Football is the Cowboys and Baseball would be the Red Sox!
Favorite book or movie character of all time? My favorite character would be Mickey and Minnie – or any classic Disney character! Winne the Pooh is also a top contender!
Are you loyal to any brand? If yes why? Yes, Dooney and Bourke is my absolute one brand I don't stray from. The quality of materials and simple designs get me every time! I have a Dooney and Bourke for almost any occasion.
Learn more about Amber and the rest of the Stay Montana team!
We ❤️ these photos of Amber living the Montana lifestyle!
Stay Montana's Property Management Services
Browse Montana Vacation Rentals
Big Sky Resort opens November 25, 2021 and closing day is April 24, 2022. 
While Big Sky hasn't announced if they will be limiting lift tickets, they do say to purchase now for guaranteed access and the best prices. New this year, the resort will be limiting tram access and you'll need to purchase an add-on ticket to ride the tram. Season passes will also be limited.
Major chairlift upgrade!! Swift Current 6 will be "America's Fastest 6-Place Chairlift," complete with Big Sky Blue weatherproof bubbles, ultrawide heated seats and individual headrests and footrests, this lift will increase uphill capacity by up to 50%!
Big Sky Resort is proud to be part of the Ikon Pass and Mountain Collective families! If you're looking for an epic ski trip combining multiple destinations, you'll definitely want to check out these pass options.
Want to experience "The Biggest Skiing in America?" We now offer 100+ vacation rentals in Big Sky!
Whitefish Mountain Resort opens December 7, 2021 and closing day is April 10, 2022.
Lift tickets are not yet on sale and we haven't heard anything about whether they will be limited. As soon as they're available, we recommend purchasing tickets early for the best prices. Season passes are available now.
New this year, the Hellroaring chair/lift 8 will be relocated offering earlier season access!
Check out our 40+ Flathead Valley Rentals including Whitefish and Columbia Falls for easy access to Whitefish Mountain!
We're thrilled to announce that Big Sky made TIME's list as one of the 100 extraordinary places to explore in 2021.
With the biggest skiing in America, the proximity of Yellowstone National Park, the endless outdoor activities and the breathtaking scenery, we're not surprised Big Sky was named one of the World's Greatest Places of 2021. Plus, it's getting easier to get to Montana with Southwest now flying into Bozeman and other airlines adding direct flights to Montana!
We ❤️  Big Sky, that's why we've planted our roots here! We now offer over 100 vacation rentals in Big Sky, Montana and pride ourselves on exceptional customer service. Want Concierge Services? We have them! Looking for the ultimate in Luxury? Check out our Sapphire Collection of elite properties.
View TIME's full list of 100 extraordinary places to explore or their article highlighting Big Sky.
Browse all Big Sky Vacation Rentals
Check out our Big Sky Area Guide!
New secluded home on 40 private acres with private hot tub, STUNNING views and room for the entire family!
Welcome to the Tomahawk Lodge, the quintessential Montana retreat with 5 bedrooms, 2.5 baths and can sleep up to 12 guests. The home features an open layout with a wrap around deck where you can enjoy 360 degree views of the Pintlar Mountain Range and gorgeous Montana scenic country. Relax on the patio or in the hot tub or enjoy the bonfire or BBQ grill with family and friends.
Tomahawk Lodge is located in the lower Flint Creek Valley, in Hall, Montana, which boasts rural seclusion while still being close to Missoula (1 hour), Helena (1.5 hours) and Philipsburg (30 Minutes). Year round activities include: hunting, fly fishing, backpacking, horseback riding, floating, hiking and skiing. The home is also dog friendly with acres for your pup to play!
Find out more & check availability for the Tomahawk Lodge>>
Find out more & check availability for the Tomahawk Lodge>>
The Flathead Valley is a summer paradise with convenient access to Glacier National Park, tons of water including Flathead Lake (the largest natural freshwater lake west of the Great Lakes), and many charming towns such as Bigfork, Whitefish, Lakeside and Columbia Falls. A visit to the Flathead Valley will allow you to enjoy world-class hiking, rafting, fishing, golfing, dining, shopping and more!
Local Tips:
Glacier National Park – make sure you have a ticket for entry if you plan to drive the Going to the Sun road this summer!
Bigfork – take in a show at the reknown Bigfork Summer Playhouse.
Flathead Lake – rent a boat or take a SUP around Bigfork Bay.
Lakeside – sample a flight of beer and enjoy delicious food at Tamarack Brewery.
Whitefish – check out the extensive, easy to access Whitefish Trail system.
Columbia Falls – don't miss the farmers market on Thursdays, complete with live music, beer garden, food trucks and of course produce!
We now have over 40 properties throughout the picturesque Flathead Valley, including watefront, secluded or walk to town homes – there's something for everyone!
Helpful Links About the Area:
Check out some of our newest vacation rentals around The Flathead Valley!
Lake Forest Retreat – Lakeside:
Salish Ridge Retreat – Whitefish:

Cedar Pointe Lookout – Collumbia Falls: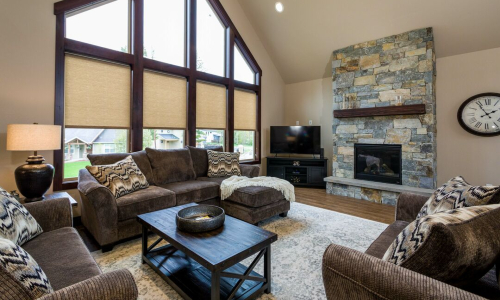 While Yellowstone National Park is not requiring tickets to enter the park, the campgrounds, lodging and tours get booked quickly so make sure to plan in advance! Glacier National Park is implementing a new reservation system for the summer of 2021 in an effort to control crowds and promote safety in the park. To help inform our Stay Montana guests and make sure they have a smooth, fantastic vacation, we've put together information below on visiting YNP and GNP. If you have any questions, feel free to reach out to our team!
Also, be aware that our vacation rentals across Montana are booking quickly for summer of 2021 so please make your reservations today!
Glacier National Park
An Entry Reservation Ticket will be required from May 28 to September 6, 2021 for private vehicles & motorcycles traveling on the Going-to-the-Sun Road between 6am and 5pm MDT from the West Glacier, St Mary or Camas Road entrances. Tickets are $2.00 and are in addition to your Park Pass and are good for 7 consecutive days. Foot & bicycle traffic does not require an Entry Reservation Ticket. Tickets are included if you have lodging or service reservations. Entry Reservation Tickets will be limited with about 3/4 of them available up to 60 days in advance and 1/4 of them available 2 days in advance. Tickets can be purchased beginning on April 29, 2021 on the recreation.gov website. Many Glacier, Two Medicine, Polebridge and Highway 2 entrances do not require an Entry Reservation Ticket.
Glacier National Park is also requiring face masks and social distancing as part of their COVID-19 precautions. Check the latest status updates for Glacier here.
Lodging near Glacier National Park>>
Yellowstone National Park
Currently, reservations are not required to enter the park or planned for the summer of 2021; however, Yellowstone is exercising COVID-19 precautions such as mask wearing and social distancing that you can read about here. Campground & lodging reservations can fill up months in advance so make sure to make your reservation early! You can make your reservation for Yellowstone camping, lodging, tours, etc. online here.
For Immediate Release: April 1, 2021 
Stay Montana Expands
 its Big Sky, Montana Vacation Rental Portfolio
Stay Montana is delighted to acquire Beehive Property Management and will keep the majority of the onsite operations and team intact. Beehive Property Management has been focused on Big Sky, Montana lodging with a well-established brand, returning guests, a variety of unique properties and loyal homeowners.  
"To ensure our owners and guests will be continuously cared for as if Beehive were still the property manager, we have chosen to sell to another local family-owned Montana company, Stay Montana. We wanted to make sure we selected a company who truly understood the unique identity of our special Big Sky properties – we knew we had found that when we met with Jennifer and Chris Torsleff, the owners of Stay Montana. Additionally, we are excited by the additional resources the Stay Montana team has to offer and confident our loyal guests & owners will be more than satisfied." Anne Gagne, former Beehive Property Management President and Owner. 
Stay Montana is excited to help take all our properties to the next level with the expanded personnel, marketing resources, exceptional customer service and amenities that Stay Montana brings to the table. The Beehive property inventory compliments Stay Montana's inventory nicely and will make Stay Montana the leading vacation rental company in Montana. 
"Over the last couple of years, we have seen several Big Sky vacation rental companies being purchased by large out of state companies with no ties to Montana, so we were excited when we had the opportunity to keep the company and jobs in Montana," said Chris Torsleff. 
Chris, Jennifer and their two children Ella and Connor moved to Big Sky in March of 2016 from Breckenridge, CO.  Both Chris and Jennifer have worked in the hospitality industry for 30 plus years for companies like Vail Resorts, Ritz Carlton, Marriott, and Hilton. Married at the Moonlight Lodge in 2002, Jen and Chris always had a dream to own a business in Big Sky and contribute to the community. Stay Montana is headquartered in Big Sky with additional offices in Bozeman and Flathead Valley. Click here to read our official announcement and view the Beehive collection of Big Sky vacation rentals.
"Stay Montana's business model is unique due to our commitment to invest in local physical offices, reservations staff and boots-on-the-ground operations in our destinations," Jennifer Torsleff said. "We pride ourselves on providing high level service and building trusting relationships with homeowners and vacation rental guests. We take care of owners' homes as if they were our own." 
Stay Montana's properties are available at staymontana.com. Headquarters can be reached at 888.871.7856.
Trips to Discover ranked our Stormhold vacation rental, located in Downtown West Yellowstone, as one of the 14 Best Cabin Rentals in Montana! Just minutes from Yellowstone National Park, a perfect home base for a large family, surrounded by the national forest and offering a fireplace and deck, 5 bedrooms and 4 baths, there are many reasons Stormhold was named as one of the best cabin rentals in Montana. Read more on the Trips to Discover website.
View more photos and check availability for Stormhold!
Browse vacation rentals by amenity>>
Questions? Contact Us!